BYD B-BOX
A fantastic choice for a home energy storage solution; the BYD Solar Battery. One of the safest & highest performing solar batteries.
HIGH PERFORMANCE
The highest charging and discharging capacity in the industry, with the ability to reach 2x it's maximum output power when under load.
SAFETY
With an extremely high heat resistance (thermal runaway temp of over 480°), the B-Box is much safer than most other lithium batteries on the market. With a BYD solar battery, you can rest assured knowing your home is safe.
MODULAR
The modular design of the B-Box allows for easy installation and upgradability. Maintenance can be achieved without interrupting the system.
10 YEAR WARRANTY
10 years of warranty means you can count on your BYD battery to keep running with great performance far into the future.
SILENT
Using 'nature cooling' the B-Box runs completely silent, without the use of fans. Simply by using the ambient air to passively cool the system.
The BYD B-BOX is a compact, high-performance solar battery. Built with a modular system, which allows you to scale this system to your needs. All the way up to 4 modules, with an impressive peak output current of 400A. The B-BOX does all this while being one of the safest batteries on the market, by using Lithium Iron Phosphate. Which is the safest type of lithium battery, as its thermal runaway temperature is over 480°. Meaning it's safer than mobile phone batteries that we put in our pockets!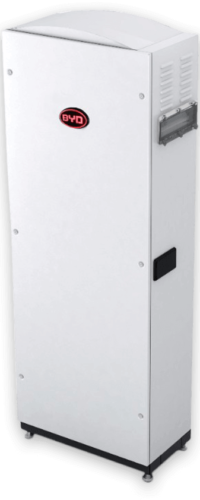 TECHNICAL SPECIFICATIONS
| | |
| --- | --- |
| Model | B-BOX LV |
| Usable Capacity | 2.5 – 10kWh |
| Warranty | 10Yr Limited Warranty |
| Voltage | 40 – 56V |
| Efficiency | 93% |
| Peak Output Current | 400A |
| Weight | 100 – 205kg |
| Dimensions | 620 x 1728 x 320 |
| Installation | Floor Indoors or Outdoors |