HIGH PERFORMANCE
This is one of the best performing batteries in the market. Combined with inverters like the SMA and Solar Edge its a great deal of its kind.
DURABILITY
These batteries are very well built. With an IP rating of IP55, you can be rest assured as they are well tested suited for any of Australia's environment.
VARIATIONS
This battery is also available in a 10kwh package
10 YEAR WARRANTY
10 years of warranty means you can count on your LG battery to keep running with great performance far into the future.
HIGH PERFORMANCE
LG is one of the world's leading manufacturers of batteries and is well experienced in delivering a power packed performance in their specialty solar batteries.
You'll reduce the power you need from the grid to meet the electricity needs of your household, which means further savings on your energy bills. The LG Chem Resu batteries can be floor or wall mounted. The LG Chem Resu 6.5 has 6.5 kWh of total energy (5.9 usable) and the RESU 10 has 9.8 kWh of total energy (8.8 usable). The battery solution comes with a smartphone app for monitoring and management. The batteries come with a 10-year or usage warranty (The RESU 6.5 has a throughput of 20 MWh, the RESU 10 throughput is 30 MWh). The capacity of the system can be expanded by adding another LG RESU battery.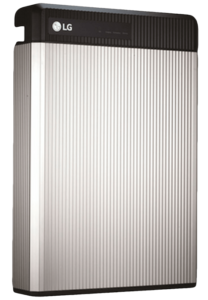 TECHNICAL SPECIFICATIONS
| | |
| --- | --- |
| Model | RESU6.5 |
| Total Energy | 6.5kWh |
| Usable Energy | 5.9kWh |
| Capacity | 126Ah |
| Nominal Voltage | 51.8V |
| Voltage Range | 42V~58.8V |
| IP Rating | IP55 |
| Weight | 52Kg |
| Dimensions | 452 x 654 x 120mm |