HIGH PERFORMANCE
This is one of the best performing batteries in the market . Combined with inverters like the sungrow hybrid its a powerhouse of its kind.
SAFETY
These batteries come with an extremely high heat resistance (Operating ambient temperature range -10°C to 45°C and Storage temperature-20°C to 50°C), With a world renowned manufacturer like Samsung your house is in safe hands .
SCALABLE
This battery is scalable upto  14.4 kWh
10 YEAR WARRANTY
10 years of warranty means you can can count on your Samsung battery to keep running with great performance far into the future.
SILENT
Using natural convection cooling the Samsung battery runs completely silent, without the use of fans. Simply by using the ambient air to passively cool the system.
High reliability and safety with prismatic cells from Samsung Cutting-edge bidirectional active cell balancing to prolong the battery lifetime effectively Robust BMS provides multi-protection at both cell level and system level Over 95% depth of discharge to maximize the usable capacity.
A compact yet powerful Lithium Battery from Samsung. At 4.8kW it's perfect for residential use. Or grab 2 of them for a total of 9.8kW, for the more power hungry homes.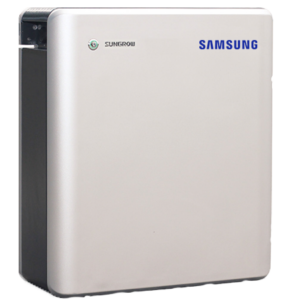 TECHNICAL SPECIFICATIONS
| | |
| --- | --- |
| Model | SBP4K8 |
| Total Capacity | 4.84kWh |
| Nominal Voltage | 51.52 V |
| Battery Type | Li-ion |
| Max Charge Current | 47 A |
| Efficiency | > 95 % |
| Scalability | Yes, up to 14.4 kWh |
| Weight | 48Kg |
| Dimensions | 510 mm x 565 mm x 190 mm |