HIGH PERFORMANCE
This is one of the best performing batteries in the market. Combined with inverters like the SMA, Solar Edge, Fronius and Enphase micro inverters a great deal of its kinds
DURABILITY
These batteries are very well built. With an IP rating of IP67 (Battery & Power Electronics) IP56 (Wiring Compartment), you can be rest assured as they are well tested suited for any of Australia's environment.
VARIATIONS
This battery is available in a 13.5kwh.
10 YEAR WARRANTY
10 years of warranty means you can count on your Tesla Powerwall to keep running with great performance far into the future.
HIGH PERFORMANCE
Tesla Powerwall is one of the world's leading manufacturers of batteries and is well experienced in delivering a power-packed performance in their specialty solar batteries.
The Tesla Powerwall is a fully-integrated AC battery system for residential or light commercial use. Its rechargeable lithium-ion battery pack provides energy storage for solar self-consumption, load shifting, and backup power.
The Powerwall is a home battery that charges during the day using electricity generated from solar panels or from the grid when utility rates are low. It powers your home in the evening when the sun is not shining or when electricity rates are higher. Many customers in Australia are now enjoying the benefits that the Powerwall can bring to homeowners by reducing power bills and their dependence on the grid.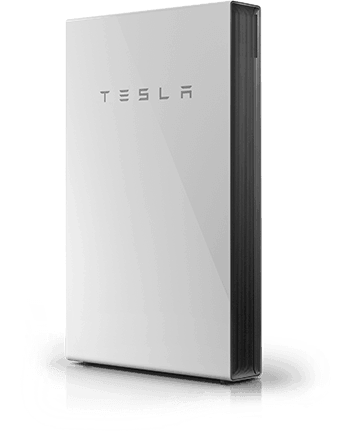 TECHNICAL SPECIFICATIONS
Model
Tesla Powerwall
Total Energy
14kWh
Usable Energy
13.5kWh
Nominal Voltage
230V
Grid Frequency
50 Hz
IP Rating
IP67 (Battery & Power Electronics)
IP56 (Wiring Compartment)
Weight
114Kg
Dimensions
1150 mm x 753 mm x 147 mm
Warranty
10 years
Mounting options
Floor or wall mount