What is New Energy Tech?
Small-scale goods and systems that produce, store, or trade energy away from Australia's main power transmission and distribution networks, or that function as distributed energy resources linked to an energy network, are referred to as New Energy Tech. This includes technologies like EV Charger, solar panels & batteries, heat pumps, microgrids, biogenerators and many more.
New Energy tech is assisting Australian homes and small businesses in better managing their energy along with lowering their bills and emissions simultaneously.
What is New Energy Tech Consumer Code?
The New Energy Tech Consumer Code is set to establish consumer protection guidelines when purchasing any New Energy tech.
The Clean Energy Council has been appointed as the NETCC's Administrator and Steward. A Code Monitoring and Compliance Committee (to be constituted) will be in charge of overseeing the administration of the NETCC program, as well as monitoring, compliance, and execution of the NETCC.
The NETCC Program is set to commence in February 2023.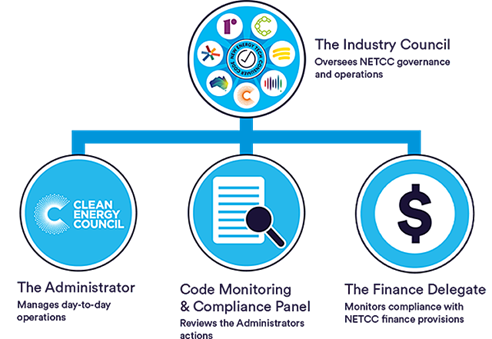 Source: www.newenergytech.org.au
How does this Program work?
As a New Energy Tech Approved Seller, a provider must prove that it fulfills the NETCC's requirements and is dedicated to adhering to its standards. For example, it must demonstrate that it provides fair and honest quotes, and that it honors warranties.
Approved Sellers' will be reviewed to ensure they comply with the NETCC, and complaints of potential noncompliance will be examined.
NETCC to replace ASR Program
The Approved Solar Retailer Program (ASR) is to be replaced by NETCC from February 2023, as it broadens the scope of ASR to include New Energy Tech products.
A brief review on the differences:
 
New Energy Tech Consumer Code (NETCC): To be initiated
Approved Solar Retailer Program (To be Replaced)
Summary
Guidelines set for the sale and installation of residential and small-scale commercial PV systems
Consumer protection guidelines for sale of new energy tech (like battery, EV Chargers, heat pumps etc.) by businesses.
Governance
• Governance: Council of peak industry and consumer bodies

• Administration: Clean Energy Council

• Compliance: Independent Code Monitoring and Compliance Panel and the Finance Delegate.

• Independently reviewed every 3 years

• Governance & administration: Clean Energy Council

• Compliance: Code Review Panel composed of industry and consumer representatives
Source: www.newenergytech.org.au